Waste & Stormwater
OUR #1 COMMITMENT: TO PROTECT THE KENNEBEC RIVER WATERSHED
No one notices the wastewater (or "sewer") system until something goes wrong—which is not only an inconvenience, but also a threat to public health and the environment. That's why GAUD has a dedicated team of specialists working hard to monitor and maintain our large and complex wastewater/stormwater system that keeps pollutants out of the Kennebec River—ideally, even under the stress of high-volume rainfall.

WASTEWATER
Our Wastewater Treatment Plant treats an average of 4 million gallons per day (MGD) of wastewater, and up to ten times that much during rainstorms.
Our treatment process involves screening, settling, aerating, and disinfecting wastewater before it is discharged. This requires a huge amount of infrastructure—see graphic below—and highly skilled personnel to operate and maintain it. Learn more.
MEET OUR WASTEWATER/STORMWATER TEAM

Learn how we help make the Kennebec River cleaner every year.


STORMWATER
The stormwater system uses storm drains and catch basins to collect rain that falls on surfaces that prevent water from being absorbed directly into the ground, such as buildings, roads and parking lots.
While not as dirty as wastewater, stormwater can contain pollutants such as motor oil, road salt, pet wastes, sand and other chemicals. Heavy rains can cause what are called Combined Sewer Overflows (CSO) into the environment. Over the past 20 years, we have cut CSO volume by 90%, by separating wastewater and stormwater pipes, and storing stormwater in holding tanks. We continue to invest in reducing the frequency of CSO events and their impact on the environment. As the graphic below indicates, managing stormwater is a big commitment! Learn more.



HOW YOU CAN HELP:
Think before you flush!
One of our biggest—and most expensive—problems is that pumps get clogged with baby wipes and other items that should never be flushed down the toilet. Learn more about how to maintain your drain and our pipes here.
…or Pour
In addition, oil or grease—especially from restaurants and other food-service operations—can create major, expensive clogs if discharged into our sewer system. That's why GAUD has strict Grease Trap & Interceptor Standards and penalties for non-compliance.
Click for a detailed overview of the wastewater treatment facilities.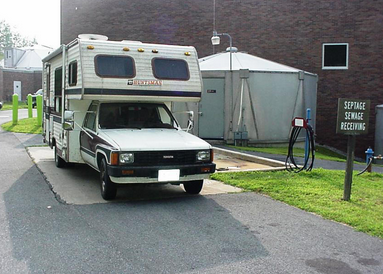 PUBLIC RV DUMP STATION
Our wastewater treatment plant at 33 Jackson Avenue in Augusta, Maine, is CLOSED due to construction on Jackson Avenue. Access will be restored in the spring of 2024 when construction is over. We are sorry for the inconvenience.
These are nearby dump stations that may be available depending on the season:
Beaver Brook Campground in North Monmouth (Paid)
Riverbend Campground in Leeds (Paid)