bill payment
Most Greater Augusta Utility District bills are monthly; the only exception is Hallowell and a few sewer-only customers, who are billed quarterly. You can pay your bill one of three ways:
Online is the simplest way to pay, using a credit or debit card, or a direct ACH payment from your bank account. With our

Auto-Pay

option, you can even automate your payments to avoid ever missing a due date. It's easy to

set up an online account

to view and pay your bills. See notes on payment options and fees

below.


By Mail We begin by mailing paper bills to all customers until they choose to "go paperless." Each bill comes with a return envelope to send a check, or you can deliver a payment in person (see below).


In Person You can hand deliver a

check or cash to our office from 7 am to 4 pm, Monday–Friday. You can also drop a check in our after-hours mail drop any time.
Here is a guide to reading your paper bill.
All you'll need to start is your unique GAUD Account Number and "Location Address", both of which are on the top right hand corner of your bill. (Click here for a visual "How To.") Enter both exactly as they appear on the printed bill, making sure to include any zeroes shown ahead of the account number.
You can set up an account—which will also let you set up automatic bill payment—OR pay your bill without creating an account
need help?
Contact the office at (207) 622-3701. Before you call, please have your account information available. You can also email us suggestions or comments at any time.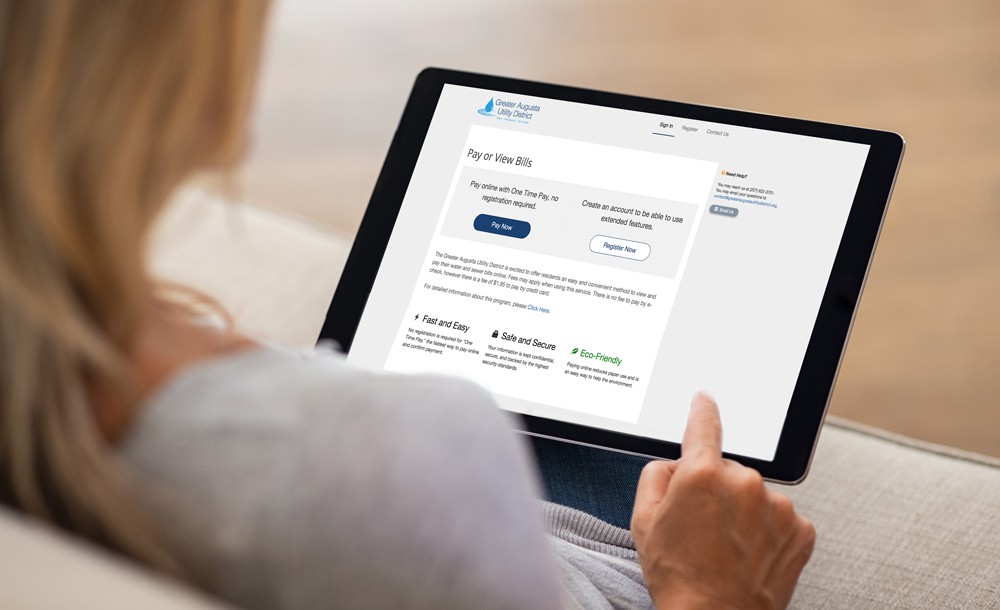 NOTES ON PAYMENT TYPES/FEES
CREDIT/DEBIT CARD
The District uses a third party payment company to provide this service.

The payment limit is $200.00 per transaction, with a service fee of $2.50.

Customers who wish to process payments larger than $200 in a single transaction must call the office for assistance and an explanation of fees.

Any fees that are applied by the third party payment company are explained prior to executing your online transaction.

You can access your payment history if you ever need a receipt or record...all 24/7/365!

For even more convenience, enroll in our FREE

auto-pay

feature, so you'll never forget to pay your bill again.

PAYING ONLINE VIA YOUR OWN BANK:
You may instruct your financial institution to pay your bills using Electronic Funds Transfer (EFT) pay options. This may also be referred to as an ACH or "Automated Clearing House" transaction.
Each credit union or bank has a different method, but most in our service area provide an EFT option to pay from your account to the District without mailing a check. Some financial institutions charge a nominal fee for this service while others have no fees.
This option is very popular and very easy since it summarizes all bill payment activity monthly. Contact your financial institution for more details.
Click here to view Your Account information. This link will allow you to look up more detailed account information and history if you need that for analytical purposes.