Plugged Sewer Lines
The graphic below shows that the District's responsibility for keeping sewer mains clean and free of debris is on the left side of the dashed line, while the customer's responsibility falls on the right side of the line.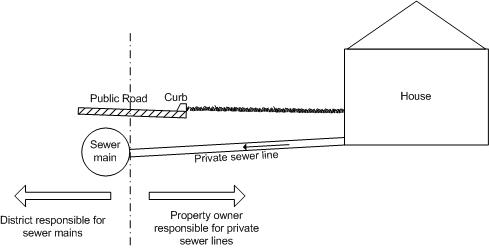 If sewage backs up into your home or business, it is a public health threat that must be addressed immediately. Please contact the District at 622-3701. During business hours, a District employee will go to your home or business to determine whether or not the backup is a plugged sewer main. If it is a blockage that is causing the problem is in the District's sewer main, the District will fix that problem.
If the backup is caused by a blockage in the customer's sewer line, the District will explain this to you and ask you to minimize the use of water in the building until you can arrange to have the blockage removed. The District will provide a list of plumbing contractors that can help remove the blockage for you.
Click here for a list of plumbing contractors who can help unplug a clogged private sewer service.
The District recommends that customers have a plumber "TV" the private sewer service line before a problem occurs. A plumbing contractor can push a miniature camera through the sewer line and determine whether or not there are any problems with it. Typical problems include tree roots, differential settling that causes clay pipes to crack and "old age" that has caused the pipe to fail. If there are no problems, the TV assessment will provide improved peace of mind that the risk of a backup is low. If there are problems, it will provide the time to determine how to best fix the problem before it floods the basement with wastewater.
Finally, check with your insurance provider to determine what would happen if a wastewater pipe plugged and backed up wastewater into your home or business. Ask the same question about what might happen if a publicly owned water or wastewater pipe broke outside your home or business. In some cases this is covered by your insurance company, but not always. It's best to ask the question when you renew your policy to ensure that you're protected against these events, particularly if you have a finished basement.